Read Time:
4 Minute, 12 Second
Ram Setu or Rama's Bridge also known as Adam's Bridge, is what scientist call a naturally occurring 50 Km long-chain of limestone shoals, between Rameswaram Island, off the south-eastern coast of Tamil Nadu, India, and Mannar Island, off the north-western coast of Sri Lanka. However, Hindu mythology claims it to be an artificial structure made by Lord Sri Ram and his army of vanara to find Sita (Ram's wife) who had been kidnapped by Ravan. Ram Setu though not navigable on foot today, was reportedly passable on foot up to the 15th century. Temple records claim that Ram Setu was completely above sea level until it broke in a cyclone in 1480. While no consensus on how or what created the Ram Setu exists, carbon dating of the beaches around Ram Setu roughly match the dates of Ramayana. But we are not here to ponder upon the bridges past instead, we are going to take a look at the strategic significance of a modern day Ram Setu and how it can help India and Sri Lanka tackle the growing Chinese influence.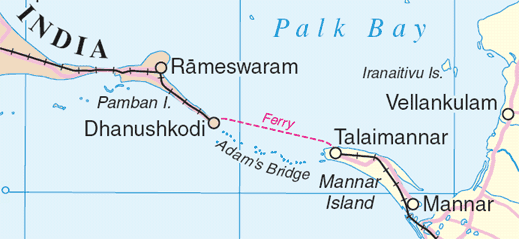 The Sri Lankan government spends about 95% of its revenue for debt repayment, most of it accumulated between 2009 and 2014 ( Sri Lanka's total government debt tripled and external debt doubled in this period). Thanks to ingenious China sponsored ideas, like building a new, multi-billion dollar port city in the middle of a jungle (which includes the world's emptiest international airport) to spending $42 million just to remove a rock from the harbour at Hambantota, Sri Lanka is staring right into a debt trap. In order to repay these loans, the government of Sri Lanka is offering debt to equity swaps to the Chinese government offering China varying degrees of control (often as high as 80%) over some of Sri Lanka's biggest infrastructure projects like ports, highways and airports. And while this might seem as an end to Sri Lanka's woes, it is precisely where the India woes begin. Such deals would ultimately end up giving China way more control over the Sri Lankan economy and policies than the Sri Lankans initially bargained for and give China a Strong foothold in the Indian Ocean Region (IOR). With Chinese submarines docking in Sri Lanka and the String of Pearls strangling Indian interest in the IOR, India too needs options to assert its dominance and help its neighbours.
The government of India has constituted nine committees before independence, and five committees since then, to suggest alignments for a Sethusamudram canal project, a project to dredge and deepen submerged portions of the Ram Setu to let ships pass through the palk strait. But most of them suggested land-based passages across Rameswaram island, and none recommended alignment across Ram Setu. As on date, there are now only four points of entry into Sri Lanka from outside the island, and all are in South Sri Lanka (Colombo port and airport, and Mattala airport and Hambantota port in the deep south). And of the four, only Colombo port and airport are functional. With the Sri Lankan government looking to revamp the nations infrastructure post civil war and bring in development to the war torn North Sri Lanka as well. A direct road link with southern India will not only boost connectivity but also bring in much needed investments in northern Sri Lanka. In the recently concluded Jaffna International Trade Fair from January 27 to 29, 2017, most of the exhibitors were unanimously of the view that for the development of trade and investment between India and the Northern Province of Sri Lanka, the construction of a road/rail linking Rameswaram in Tamil Nadu with Thalaiamannar in North Sri Lanka is a must.
Such a link would not only help India Counter Chinese influence on the island nation but also help India and Sri Lanka to cultivate a thriving economic and cultural relationship. However, some uber nationalists in southern Sri Lanka are opposing the idea of a road link with South India on grounds of security and greater influx of Indian personnel into Sri Lanka. But with Sri Lankan customs and immigration personnel to keep an eye and check on incoming people and goods coming through the road link. The fears of these uber nationalists seem to be unfounded. The Indian subcontinent is moving towards new regionalism, be it the launch of the South Asia satellite or the signing of a motor vehicle agreement between India, Bangladesh, Bhutan and Nepal. It's the Ram Setu or Hanuman Bridge or whatever one decides to call it, that could become the most powerful symbol of the subcontinent's new regionalism. Helping Sri Lanka free itself from the dragon's clutch and curtail China's imperial ambitions.